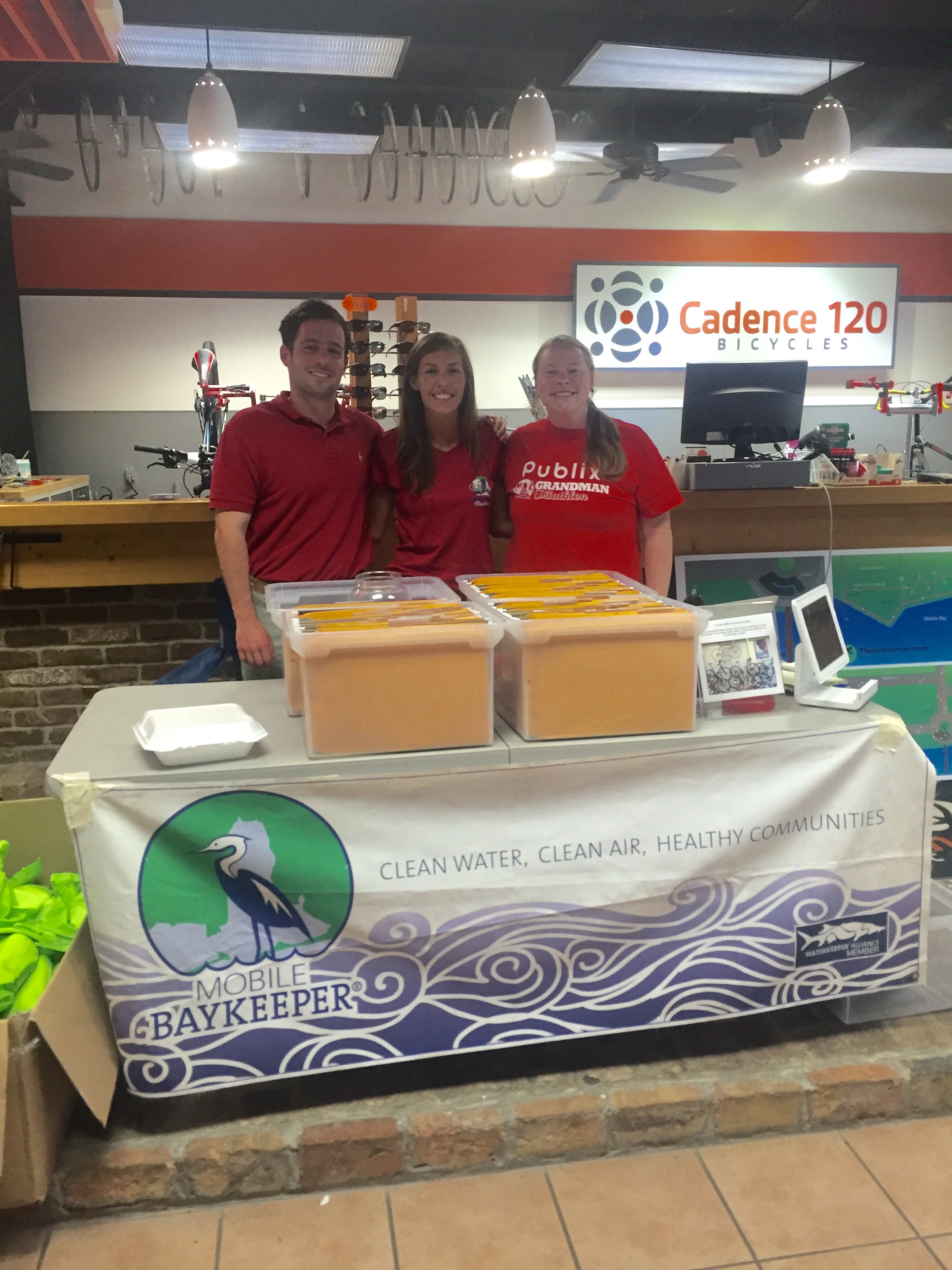 This summer, we are fortunate enough to have EIGHT wonderful interns on the team! Yes, you heard us correctly - eight interns. They continue to impress the staff each day and have been a huge help all summer. We could not do the work we do without them. They are all ages, they come from a variety of different backgrounds, and each of them brings a unique set of skills and interests to the table. Here's a chance to get to learn a little more about some of them, in Part 1 of "Meet the Interns".
Kelsie Hall, 20 (Operations & Program intern)
A Native of Mobile, Kelsie has always had a deep connection to Alabama's coastal environment. From a young age, she has enjoyed going to the beach and fishing. As a rising junior at Mississippi State University, Kelsie is pursuing a degree in Environmental Geoscience with a minor in German. She is actively involved with the Oktibbeha Humane Society Student Chapter and Minorities in Agriculture, Natural Resources, and Related Sciences, while also serving as the Vice-President of Finance and Scholarships in the Ladies Social Circle. Her dream job is to fully utilize both of her degrees, where she can conduct research to benefit the environment and use her proficiency in German.
As the Operations & Program Intern, Kelsie assists with many different aspects of the organization. During the month of May, she was responsible for much of the behind the scenes work in preparation for the Grandman Triathlon, which included preparing racer packets, distributing marketing materials, and organizing various event logistics. She also assists the Program staff by conducting water quality testing in local creeks and construction site inspections throughout the area. Along with other interns, she has created fact sheets about various issues facing our local waterways. Interning at Baykeeper has given Kelsie a much deeper connection to her hometown and she has learned the importance of protecting and preserving our watershed.
Paul Lockett, 16 (Program Intern)
Originally from Mobile, Paul never thought of Mobile Bay as being a significant part of his life growing up. Since his mother is allergic to most fish and all shellfish, he was unable to make the important connection between the health of the watershed and the fresh seafood that inhabits its waters. His family never fished, kayaked, or went boating so the strongest connection he had with water were his swimming lessons and occasional trips to water parks.
It wasn't until Mrs. Phyllis Wingard from Keep Mobile Beautiful (KMB) presented on the harmful effects of litter to his middle school class that he started to understand how his actions on land affected the surrounding waterways. After learning from KMB and participating in the affiliate club at his school, Paul joined the Estuary Corps Program, a hands-on educational program that engages middle school students interested in biological and marine sciences through a variety of hands-on activities, which gave him an extensive amount of exposure to the environmental field. Upon entering his freshman year at Murphy High School, Paul immediately started a recycling club to help advocate for environmental awareness. Serving as President of this club has opened up several opportunities for Paul, including an internship with Mobile Baykeeper and becoming a member of the Mobile Kappa League.
As the Program Intern, Paul has conducted extensive research on several of our major issues, assisted the Program Staff by educating younger students on watersheds and water quality through our Strategic Watershed Awareness and Monitoring Program (SWAMP), conducted water quality monitoring of our local waterways, and joined other interns to create fact sheets on our major campaigns. He has also assisted with marketing efforts for our fundraisers and the SwimGuide App. Paul is currently working toward achieving a full scholarship to college.
Danielle White, 22 (GIS Intern)
Danielle was born and raised on the Gulf Coast in Daphne, Alabama. She has always had a deep-rooted appreciation for the Gulf Coast and enjoys fishing and boating in her spare time. She is currently pursuing a degree in Geography and a minor in Geographic Information Science (GIS) at the University of South Alabama and is also a member of Gamma Theta Upsilon, the International Geographical Honor Society. Upon graduation, she hopes to find a job that will allow her to utilize her GIS skills while positively serving the environment.
As a GIS intern at Mobile Baykeeper, Danielle is responsible for creating maps to assist with the visualization and interpretation of data related to environmental threats such as storm water runoff and sewage spills in the Alabama Gulf Coast area. She also assisted in water quality testing of Mobile's creeks and assisted with marketing and event planning efforts at Mobile Baykeeper's annual Grandman Triathlon. Interning at Mobile Baykeeper has further impressed upon her the importance of protecting and maintaining local waterways to ensure healthier communities.
Jack English, 24 (Development intern)
Jack is a native of Spanish Fort and recently graduated with a degree in Accounting from Auburn University. He served as the Development Intern throughout the month of May and beginning of June before accepting a full-time position at D.R. Horton. Some of his favorite pastimes include kayaking, biking, and playing the guitar. He is also a big fan of SEC football.
During his time at Baykeeper, Jack was a vital part of the planning and preparation process for the Grandman Triathlon, in addition to volunteering at the event for both the setup and race day. As a recent business graduate, he enjoyed learning the process of creating a nonprofit budget and how donations are both received and allocated. He also participated in water quality testing on Eslava Creek and Bolton Branch with other interns. The Baykeeper staff wish him the best at his new position and are very grateful for the hard work he put in while serving as an intern.
Do you want to learn more about internship opportunities at Mobile Baykeeper? Click here to view a detailed description of available internships. For more information, contact Operations Manager Nickelle Stoll or call 251-433-4229.