Reflecting on a Record-Setting Apple Snail Roundup
by Sarah Hogan, Volunteer Engagement AmeriCorps Member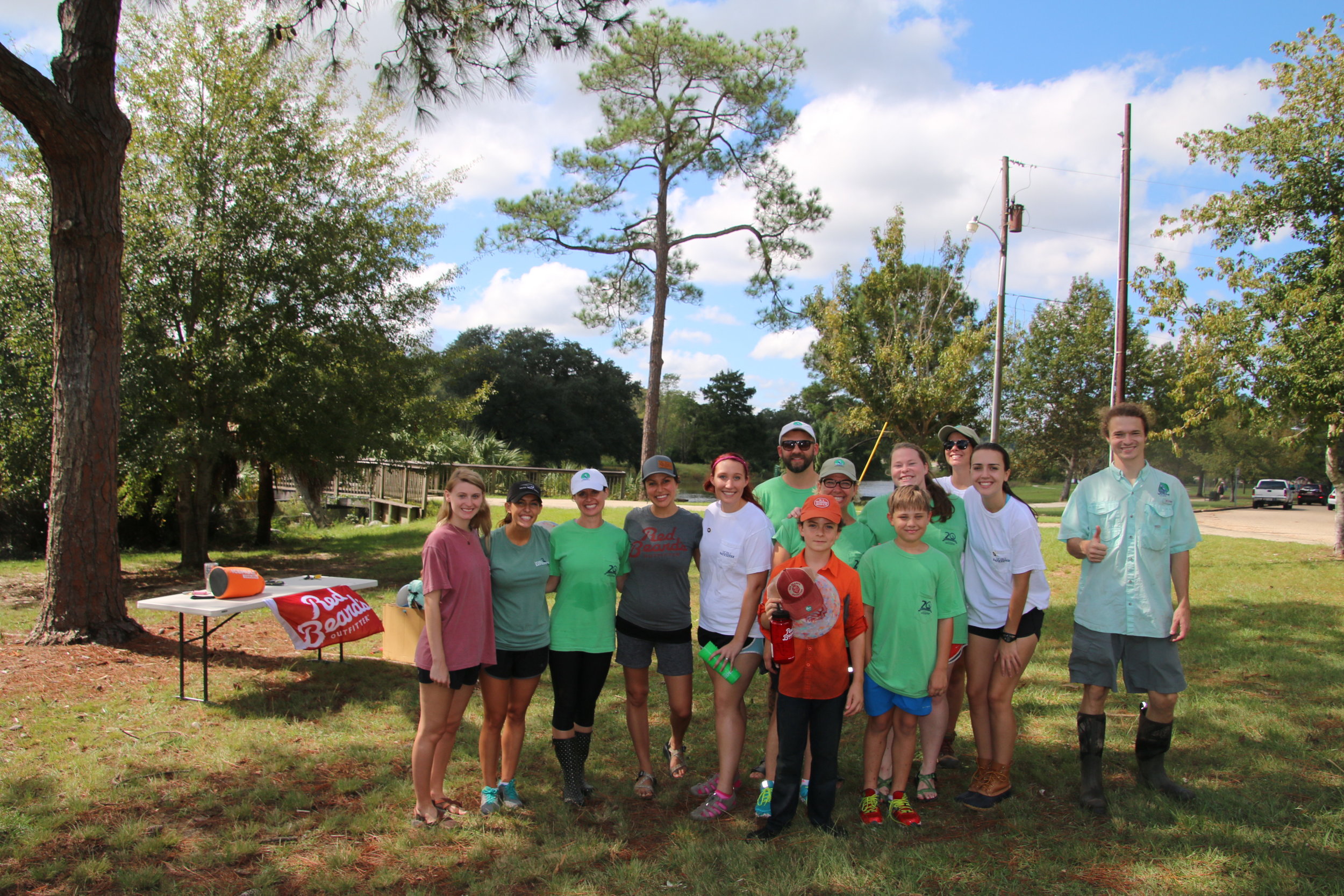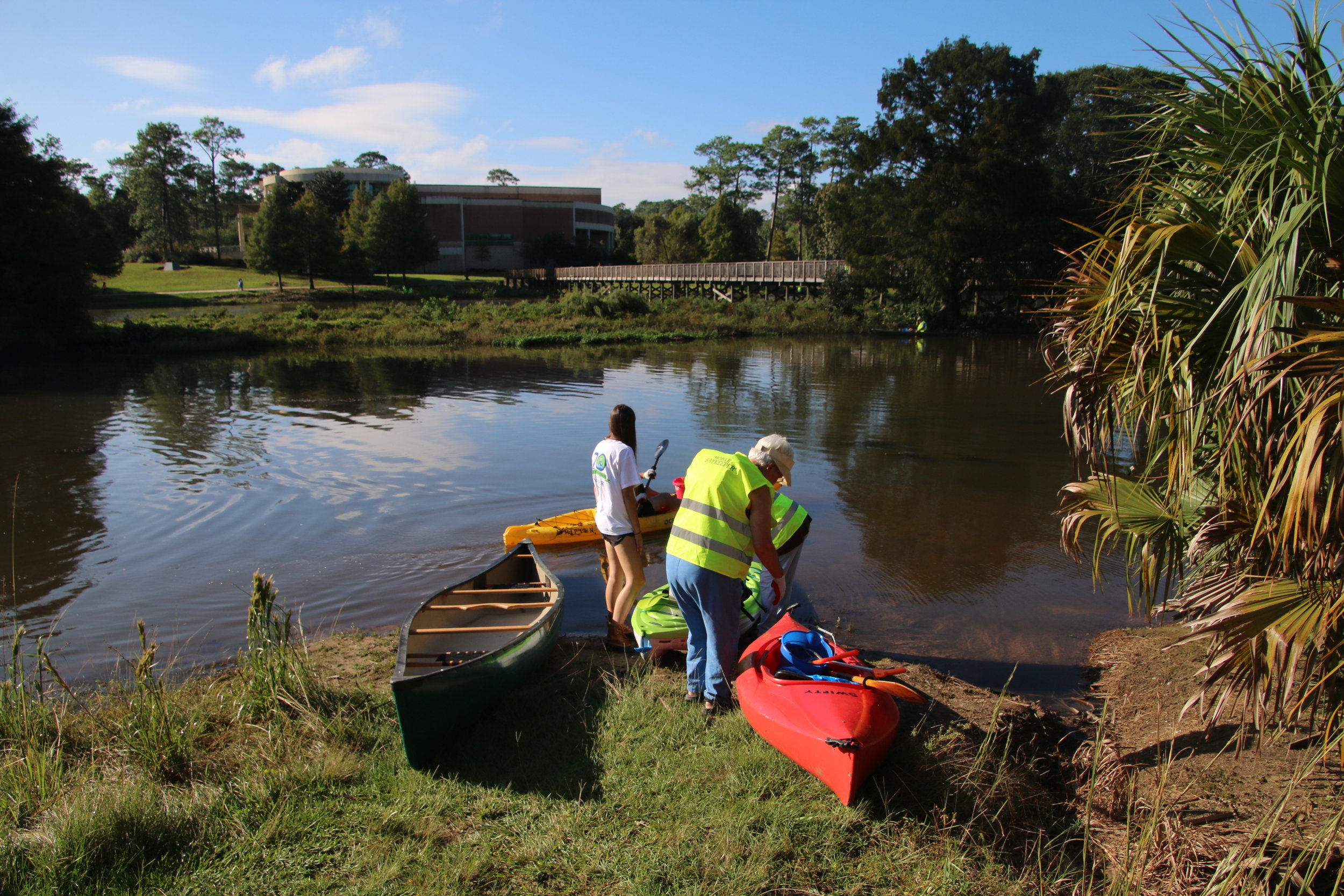 On a beautiful Saturday morning without a cloud in the sky, we were joined joined by hundreds of loyal volunteers on a quest to reduce the number of invasive Apple Snails in Langan Park. Three Mile Creek has been ravaged by this pesky invasive species for more than a decade, and it has also also begun to spread throughout the Coastal regions of Florida, Alabama, and Louisiana. Removing apple snails ensures clean waterways and growth of local vegetation. We are working to prevent this species from spreading beyond Three Mile Creek into the Delta and Bay. These roundups are a great way to get people outside and expose them to the work we do.
266 volunteers from our community showed up, all determined to get involved and make a difference. It was the biggest turnout in Baykeeper history! Some of the groups who attended were the young women of Clair's Hope, the Girl Scouts, and the Boy Scouts. There were also students involved in clubs from surrounding schools including Daphne High School, UMS -Wright, Baker High School, Murphy High School, and St Paul's Episcopal School.
Before sending out our volunteers, we provided them with gear and educated them on the importance of why we need to remove these snails. To our surprise, many individuals were already well versed on this issue. Others also came with their own supplies for collection, displaying their will to work towards a cleaner, safer environment.
This roundup was also special because we were fortunate enough to work with one of our committed local businesses, Red Beard's Outfitters, who provided prizes for the volunteers who collected the most apple snails. For the total haul, our competition succeeded in gathering 4,432 apple snails and approximately 1,080 egg masses. The competition was categorized into two categories: groups and individuals. In the individual competition, our third place winner was the North Family with 250 snails collected, second place was Lila Adams for 277, and the first place was awarded to Ambrose with 487! For groups, third and second place resulted in a tie between the Boy Scouts and Girl Scouts who both collected 272 snails. The first place winner for groups was Daphne High School's Leo Club with 282 apple snails collected. Offering prizes was a great way to put a fun and competitive spin on the event.
Because this species continues to be a problem, we encourage all of our volunteers to conduct their own roundups with their club, organization, friends, or family members. If you are interested in conducting your own roundup, please contact Membership and Volunteer Coordinator Chad Chappell to borrow our equipment.
We work every day for clean water, clean air, and healthy communities. The next volunteer opportunity we have is "Not Your Average Cleanup" on Saturday October 28. We will be hosting a marine debris removal on One Mile Creek as the kickoff event for a two-year grant we received from NOAA to help Mobile move toward a litter-free Mardi Gras. Sign up to RSVP to this event Here. Thank you again for your support!
Other Blogs We Recommend: