On July 27, 2018 the Draft Supplementary Environmental Impact Statement (DSEIS) was released by The Army Corps of Engineers. The Public Comment Period will now be open for 45 days. Mobile Baykeeper looks forward to reviewing and submitting additional comments over the coming weeks as we research how our concerns were taken into account following our earlier comments.
Mobile Baykeeper Submits Comments on Mobile Ship Channel Expansion Study
Mobile Bay is our home - a place where we all enjoy swimming, fishing, and playing. It is also a complex and highly sensitive ecosystem that is considered one of the most biodiverse in North America. We depend on a healthy Mobile Bay for many things: recreation, delicious seafood, tourism, coastal development, industry, and so much more.
Therefore, Mobile Baykeeper is staying heavily involved in plans to deepen and widen the Mobile Ship Channel. By thoroughly studying and developing a comprehensive plan for the port expansion, we can grow responsibly and minimize negative impacts to the very natural resources that support many economic sectors and our quality of life along the coast.
Mobile Baykeeper recently submitted comments in advance of the Draft Supplemental Environmental Impact Statement (DSEIS) due to be published later this summer evaluating the proposed deepening and widening of the Mobile Ship Channel. A summary of our latest comments are below. We ask the Army Corps of Engineers do the following:
Better Define and Understand "No Action" – We are troubled that the Corps has thus far stated there will be "no environmental impacts" associated with this project. We now understand this finding is in part based on predicting ship traffic will be greater without the ship channel deepening and widening project than once it is built - that is a tenuous assumption. We request the Corps review impacts under a variety of scenarios to accurately understand what impacts will occur under these all potential growth scenarios. For example, if ships are able to be more heavily loaded (because the channel is deeper) how will this impact the wake height experienced along the western shorelines of Mobile Bay.

Use More than One Year as a Baseline – The Corps is using weather patterns from 2010 as the only year to develop a model for the entire project. The year of 2010 did not have severe or extreme drought and is likely not an accurate characterization of the full range of conditions that would result from the modifications to the ship channel. We strongly believe they should use more than one single year to create a more accurate model.
Evaluate Alternatives - We suggest the Corps look at alternatives proposals including the implementation of a Vessel Speed Reduction (VSR) program that may reduce project impacts from ship wake (causing erosion to shorelines and disturbing oyster spat settling) and air emissions (degrading air quality) through a reduced speed requirement of all vessels in the channel.

Cumulative & Indirect Impacts – Cumulative impacts include those coming from affiliated industries that will need or wish to expand due to the Port's expansion as well as prospective new growth due to a deeper and wider ship channel. The cumulative analysis needs be sensitive enough to include other important factors including but not limited to: extreme weather events, pollution, wetland loss, fishery habitat impacts, and sea level rise. The Corps must identify all indirect impacts such as new growth and development, and compensate for any unavoidable impacts.
Coordinate with All Appropriate Audiences – The Corps should meaningfully coordinate with all the appropriate audiences to develop the DSEIS – including state and federal agencies, commercial and recreational fishermen, and minority and low-income communities located in affected areas. To ensure the Corps is utilizing the best available science, they must also connect with the local scientists and researchers who specialize in subjects that are relevant and pertain directly to the study. These individuals have extensive and critical information.

Monitoring Plans & Mitigation – We suggest the Corps implement a long-term monitoring plan that closely evaluates the impacts of dredging and disposal areas for at least 10 years. We encourage them to consider public comments to ensure impacts are not underestimated. If any unavoidable impacts are identified, we suggest the Corps work with the community and environmental groups to ensure mitigation projects will adequately fix the impacts identified and are supported by the community.
Mobile Baykeeper also provided more specific concerns that we want them to study at length:
Changes to saltwater and dissolved oxygen (after creating a deeper channel) impacting...
Wetlands productivity and survival

Submerged Aquatic Vegetation (SAVs) or seagrasses

Fish and benthic species from habitat loss or changes to water characteristics
Increased ship wake and wave height causing...
Shoreline erosion

Oyster spat settling and oyster farming viability

Current and future living shorelines

Potential mammal ship strikes

Disturbance of mammal and fish species migrations
Dredging activities and a deeper channel causing...
Turbidity (or muddy water) which can impact SAVs, oysters, and fish

Release of harmful contaminants locked in the bottom substrate

Causing direct mortality or disturbance to benthic communities (critters that live on the bottom bay floor)
**And how all of these activities will impact our Threatened and Endangered Species like the West Indian Manatee and Gulf Sturgeon, etc.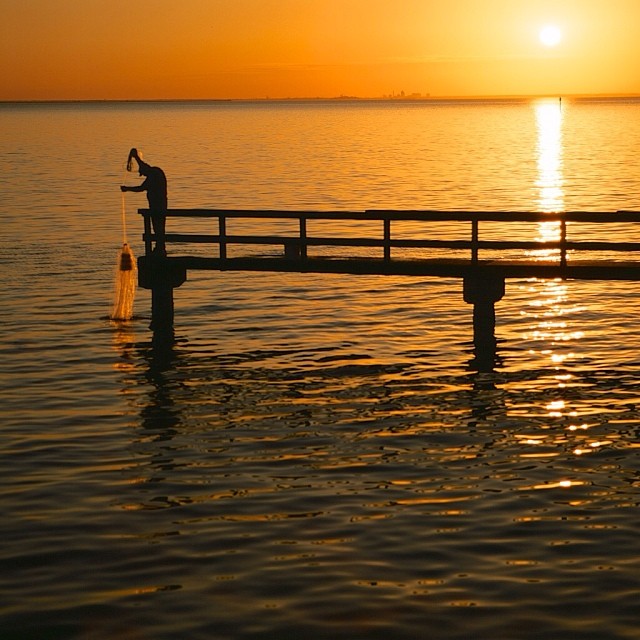 Ultimately, we encourage the Corps select a plan that addresses the triple bottom line - the economy, environment, and community. Benefiting all three of these values will continue to allow Mobile Bay to thrive and continue to support its many uses. If you want to dive deeper into our full comment letter, please click here.
Submit comments – You still have a chance to speak up! You can submit written comments via email to MobileHarborGRR@usace.army.mil. On July 27, The Corps released a Draft Supplementary Environmental Impact Statement with a 45 day comment period, so be sure to follow Mobile Baykeeper for updates on this important document.
Join us
Become a Member of Mobile Baykeeper to receive more information about our involvement in this issue and other important issues we're working on to protect the Mobile Bay Watershed and our coastal communities.
Contact Us
Questions, comments, or concerns? Let us know! Contact Program & Grants Coordinator Laura Jackson at ljackson@mobilebaykeeper.org or call (251)-433-4229